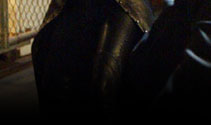 The Cast of "Birds of Prey"
Barbara Gordon/Oracle - Dina Meyer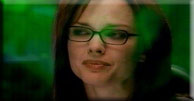 Barbara Gordon/Oracle on Birds of Prey was played by an actress named Dina Meyer. Dina's previous credits include episodes of Friends and Ally McBeal, and the TV series Secret Agent Man, but her most memorable role may be playing Private Dizzy Flores in the movie "Starship Troopers."
Fans of past Batman television series, animated series, and movies might remember Barbara Gordon as the neice of Commissioner Gordon who also has the alter ego of Batgirl. In the 1988 graphic novel "The Killing Joke," Barbara was paralyzed by the Joker, and in the years since in the comics, with her career as Batgirl being over, Barbara has become the computer genius known as Oracle. If it is on a computer, chances are Barbara can hack into it.
In the television Birds of Prey, Barbara was also a teacher in her civilian identity. We saw in the series how that part of her life and her life of being the Oracle sometimes conflicted.
Last we heard, Dina was shooting something in Montreal.
Dina Meyer Trivia! Dina was born and raised in Queens, N.Y. Her college major was in Business Administration and she minored in French at Long Island University. She also attended the Sarbonne in Paris. Dina also appeared in the most recent Star Trek movie, "Nemesis."
Helena Kyle/The Huntress - Ashley Scott

The role of Helena Kyle, a.k.a. the Huntress, for Birds of Prey was played by Ashley Scott. Ashley's most recent credit before the show was as "Asha" on the FOX series Dark Angel. She also played "Gigolo Jane" in the movie "A.I."
Helena Kyle has an interesting background -- much like the original Pre-Crisis comic books, this Huntress is the daughter of Batman and the Catwoman. Now in the future of New Gotham, the Huntress has suffered losses with her mother murdered and a rift with her father, Bruce Wayne. You may note she doesn't use his last name.
Look for Ashley next in the movie "S.W.A.T."
Ashley Scott Trivia! Ashley has two pet Australian tree frogs named Azul and Chunk, according to a WB press release. Ashley was born in Louisiana and raised in Charleston, S.C.. Ashley also modeled for several years.
Dinah - Rachel Skarsten

Dinah, who may or many not some day become the new Black Canary, was played in Birds of Prey by an actress named Rachel Skarsten. Rachel's past credits include episodes of Twice in a Lifetime and The Famous Jett Jackson. She also starred in the TV series Little Men and in the movie "Angels in the Infield."
Dinah's background on the TV Birds of Prey was much different than how things were for the Dinah in the Birds comic. This Dinah was only 17, as previously noted, and she has some sort of psychic ability.
Rachel Skarsten Trivia! Rachel was born and raised in Toronto, Ontario, Canada. Rachel is also fluent in Norwegian. She is said to be travelling Europe in the Summer of 2003 and then going to an unnamed Canadian university in the Fall.
Detective Jesse Reese - Shemar Moore

Shemar Moore appeared in Birds of Prey as Detective Jesse Reese, a recurring ally to the Birds.
Moore previously starred as Malcolm Winters for eight years in the soap The Young & The Restless, and he was also in the film "The Brothers." He is also currently the host of the syndicated Soul Train.
Shemar recently completed a pilot called "Chasing Alice."
Shemar Moore Trivia! Shemar received the Daytime Emmy Award for Outstanding Supporting Actor in 2000, for his role as Malcolm Winters. He also earned a place in TV history as being the person to present Susan Lucci with her long-awaited first Daytime Emmy Award after years of being nominated and not winning. Shemar has also received five NAACP Image Awards.
Dr. Harleen Quinzel - Mia Sara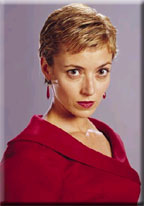 Mia Sara (Ferris Bueller's Day Off) played Dr. Harleen Quinzel, who very well might be considered the "Big Bad" of Birds' first season.
Alfred - Ian Abercrombie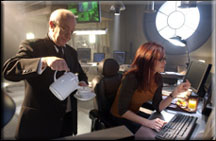 We now know the identity of the actor playing Alfred in Birds of Prey, and it is Ian Abercrombie.
The London-born Abercrombie's past credits including playing Elaine's boss Mr. Pitt for a season of Seinfeld. He was also in "Addams Family Values," "Army of Darkness," Buffy the Vampire Slayer, Star Trek: Voyager, and hundreds of other television and movie appearances spanning many decades. He has also done a great amount of theater work. If that was not enough, he is also used for many voiceovers. He has even played a butler before, in the movie "The Lost World: Jurassic Park" and on the soap Santa Barbara.
Birds of Prey and its characters are copyright ©2003 Warner Bros., Tollin-Robbins Productions & DC Comics. This is a fan site and not authorized by the WB or DC. This is page copyright ©2003 Planet Krypton Productions, unless material is noted as coming from elsewhere.
PLEASE DO NOT TAKE GRAPHICS, NEWS, SPOILERS, ETC. FROM THIS PAGE WITHOUT FIRST ASKING PERMISSION AND PLACING A LINK TO GOTHAMCLOCKTOWER.COM. OR, JUST SEND PEOPLE OVER TO THIS SITE! THANKS!