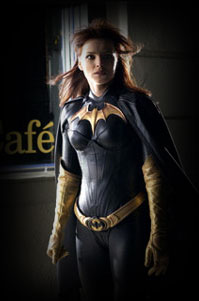 Gotham Clock Tower Says Goodbye
We here at Gotham Clock Tower would like to thank those from the cast or crew of Birds of Prey who visited and supported the site throughout its existence. We'd also like to, of course, thank you all for putting together the show. Speaking for myself (GCT webmaster Craig), I have to say it was fun watching the series from the start, and I'm incredibly thankful to have been introduced to the work of folks that I know I'll be seeing more of in the future.
I'm sorry that for some of you I wasn't able to make my personal goodbyes, but know that I wish you the best of luck in the future. And, sorry Dina - there will always be the hope inside that we see you playing Oracle once again (hey, how about a Nightwing series!). I said in my first review of the series, and I'll say it again - Dina Meyer as Oracle was one of the best comics-to-screen transfers I had ever seen. Right up there with Christopher Reeve as Superman in the "perfect casting" front. I was a little disappointed that my two favorite characters, Oracle and Alfred, didn't appear or get to do nearly as much as I would have wished on the show.
I really thought Birds of Prey had all of the makings of a hit. (After all, if it didn't, why would I have spent the time to do a site like this!) I think at times it did miss its mark (personally, I didn't care for all the metahuman or fighting over who gets to kick the crap out of the bad guy campy dialogue), but I thought the show was getting there, and only needed the time to work towards that goal. Unfortunately, that is not to be.
Gotham Clock Tower will continue to exist for the forseeable future as an archive of the development of the Birds of Prey TV series. I also hope to keep the site up as a way to keep fans updated on the current career goings-on of the show's cast and crew. Those of you who enjoyed GCT are invited to visit KryptonSite (a site devoted to Smallville) and KnightsPast (devoted to the possible upcoming series Starman) to find news posted in a similar vein.
Thanks again to the site's visitors, and to the cast and crew. Remember, February 19 is when the story ends, and we hear the last two are really good!
- Craig Byrne, Webmaster
Birds of Prey and its characters are copyright ©2003 Warner Bros., Tollin-Robbins Productions & DC Comics. This is a fan site and not authorized by the WB or DC. This is page copyright ©2003 Planet Krypton Productions, unless material is noted as coming from elsewhere.
PLEASE DO NOT TAKE GRAPHICS, NEWS, SPOILERS, ETC. FROM THIS PAGE WITHOUT FIRST ASKING PERMISSION AND PLACING A LINK TO GOTHAMCLOCKTOWER.COM. OR, JUST SEND PEOPLE OVER TO THIS SITE! THANKS!